Table of contents
Validity and prices of stickers
| Type | Validity period | Price |
| --- | --- | --- |
| Annual (R) | Starts on December 1, 2019 and expires on January 31, 2021 (1 month before and after the nominal period). | CZK 1,500 |
| Month (M) | Starts on the day marked on the sticker and expires at the end of the same day as marked on the sticker in the immediately following month. | CZK 440 |
| 10-day (D) | Starts on the day marked on the sticker and expires at the end of the tenth calendar day. | CZK 310 |
Vehicles with total weight under 3.5 tonnes – regardless of trailer weight – use stickers (motorbikes are free of charge). The details shown in the vehicle registration document are decisive in determining the total weight (m) of the motor vehicle.
Where to buy a sticker
Stickers are available at almost every petrol station or post office in the Czech Republic. Road and Motorway Directorate (ŘSD) does not have its own selling points. When entering the Czech Republic on motorways D1 (from Poland near Bohumín), D2 (from Slovakia near Břeclav), D5 (from Germany near Rozvadov) and D8 (from Germany near Petrovice), the sticker can be bought on the first rest area after the border.
NOTE: It is highly recommended to buy a sticker with a credit card or in CZK directly at the petrol station cash desk! Other resellers at rest areas may charge you an additional amount of money for exchange rates, please beware of unfair rates.
Parts of motorways with a fee
Traffic signs for a motorway with a fee and for a motorway free of charge
| | |
| --- | --- |
| Motorway (with a fee) | Motorway free of charge |
Map of motorway network
Valid since January 1, 2018.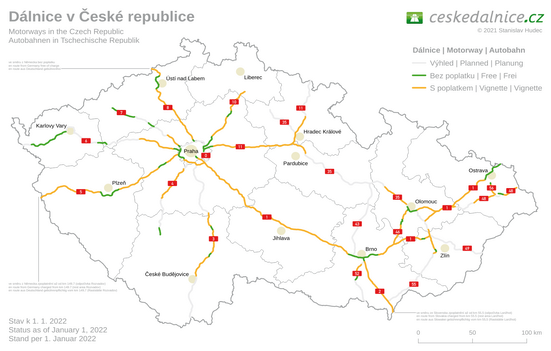 List of parts of motorways with a fee
Valid since Januar 1, 2020.
Modletice (exit 76) – Prague-Slivenec (exit 16)
Prague-Chodov (exit 2) – Kývalka (exit 182)
Holubice (exit 210) – Kroměříž-západ (exit 258)
Kroměříž-východ (exit 260) – Říkovice (km 272)
Předmostí (exit 282) – Ostrava-Rudná (exit 354)
Brno-Chrlice (exit 3) – Slovakia (km 61)
– en route from Slovakia with a fee from km 55.5 (rest area Lanžhot)
Mezno (km 62) – Čekanice (exit 76)
Měšice (exit 79) – Veselí nad Lužnicí-jih (exit 107)
Veselí nad Lužnicí-jih (exit 107) – Úsilné (exit 131)
Jíloviště (exit 9) – Háje (exit 45)
Prague-Třebonice (exit 1) – Beroun-východ (exit 14)
Beroun-západ (exit 22) – Ejpovice (exit 67)
Sulkov (exit 89) – Germany (km 151)
– en route from Germany with a fee from km 149.7 (rest area Rozvadov)
Jeneč (exit 7) – Nové Strašecí (exit 32)
Kněževes (exit 3) – Knovíz (exit 18)
Zdiby (exit 1) – Řehlovice (km 64)
Knínice (exit 80) – Germany (km 92)
– en route from Germany free of charge
Stará Boleslav (exit 14) – Bezděčín (exit 39)
Kosmonosy (exit 46) – Ohrazenice (exit 71)
Jirny (exit 8) – Sedlice (exit 84)
Sedlice (exit 126) – Opatovice (exit 129)
Mohelnice-jih (exit 235) – Křelov (exit 261)
Olomouc-Holice (exit 276) – Lipník nad Bečvou (km 296)
Vyškov-východ (exit 1) – Prostějov-jih (exit 21)
Držovice (exit 26) – Hněvotín (exit 37)
Bělotín (exit 1) – Bělotín-východ (exit 3)
Dobrá (km 50) – Žukov (exit 70)
Rajhrad (exit 10) – Pohořelice-sever (exit 23)
Hulín (exit 16) – Otrokovice-sever (exit 30)
Ostrava-Hrabová, průmyslová zóna (exit 40) – Frýdek-Místek (exit 51)
Design of stickers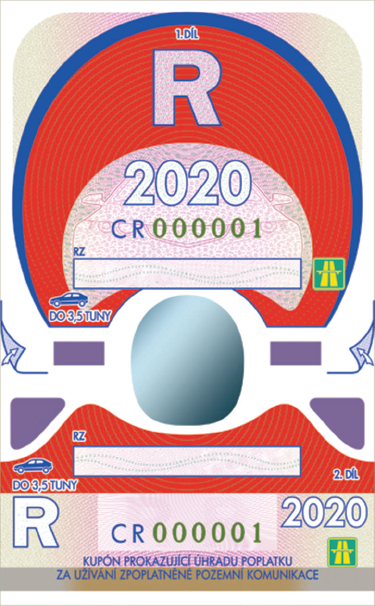 Annual sticker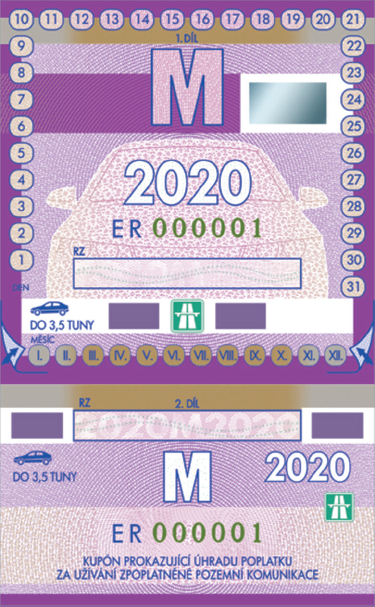 Month sticker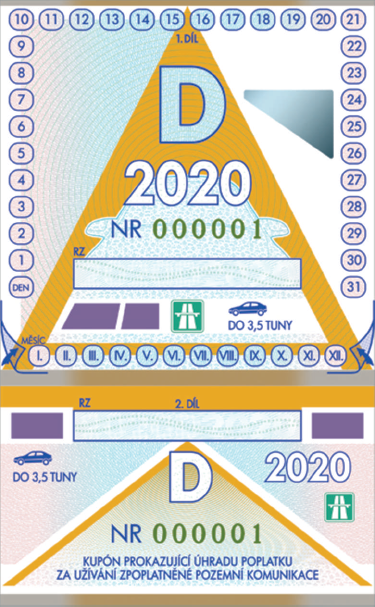 10-day sticker
Other information
A proof of payment of the fee is a 2-part sticker. Part one of the sticker is to be placed on the inside of the windscreen. Part two of the sticker is to be retained.
Fill in the registration number of your vehicle legibly in the places indicated on both parts of the sticker. Use pen, not pencil.
Where to put the sticker: The complete surface of part one of the sticker must be attached to the bottom right of the vehicles windscreen inside so that the driver's view is obstructed as little as possible and the sticker is clearly visible from the outside. Retain part two of the sticker for check purpose. During police checks, both parts of the sticker are required. Stickers not fully attached to the windscreen, or on which either the validity period or the vehicle's registration number is not filled in, are invalid.
After the sticker has been attached to the windscreen, it cannot be re-used for another vehicle. The sticker is valid even if the vehicle's registration number has been changed. The sticker should be removed from the vehicle after its expiration date.
Penalty: Fine of up to CZK 5,000 or a penalty notice of up to CZK 100,000 in administrative proceedings.