Table of contents
Validity and prices of stickers
| Type | Validity period | Price |
| --- | --- | --- |
| Annual (R) | 365 days | CZK 1,500 |
| Month (M) | 30 days | CZK 440 |
| 10-day (D) | 10 days | CZK 310 |
Here you buy your electronic motorway sticker

When you buy a vignette, you can set its validity start. You can buy all vignette variants at any time of the year, with validity starting on the selected date. You can postpone the start of validity of all vignette types for up to three months. If you pay by payment card, just fill in your vehicle details, select the type of vignette, choose the start date, and pay. You will receive a confirmation of payment via email or physically at the point of sale (where you can also pay cash) and you are ready to hit the road. If you choose to pay by electronic transfer, you can only use the toll motorway sections after you have received your payment confirmation, which can take up to 5 days to process.
Parts of motorways with a fee
Traffic signs for a motorway with a fee and for a motorway free of charge
| | |
| --- | --- |
| Motorway (with a fee) | Motorway free of charge |
Map of motorway network
Valid since January 1, 2023.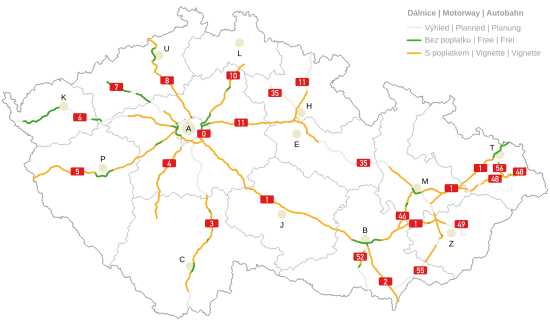 Other information
Penalty: Fine of up to CZK 5,000 or a penalty notice of up to CZK 100,000 in administrative proceedings.